This site is translated with Google translate, so a sentence may look weird or funny, like this one, hahaha.

A naturist or nudist is an everyday person who lives like everyone else with the difference that he or she, in certain situations, thinks differently about wearing clothes. Clothing was originally intended to protect against cold and makes sense in our daily lives. But there are circumstances that you can completely do without clothes, such as swimming, sunbathing and at pleasant temperatures in your own home and garden. Many naturists go to a naturist site to be able to be naked together and to enjoy the beautiful nature whitch they handle with very consciously and with care. When you are completely nude in the open air, you experience a wonderful feeling of freedom and the awareness of being a part of nature, as we were born.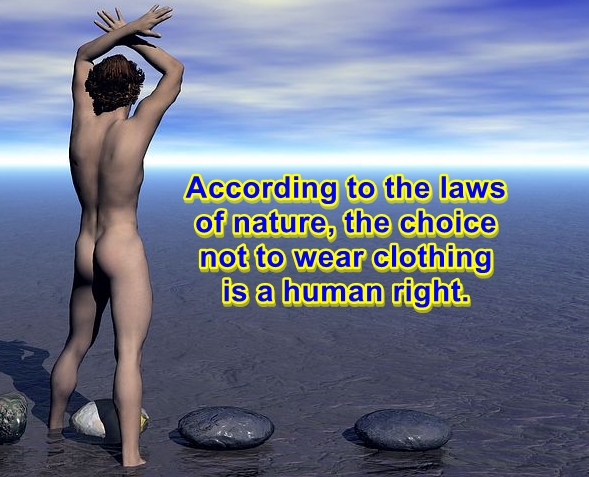 I remember very well that in my early childhood I noticed that I felt comfortable without clothes. Although I did not grow up with naturism and I am apparently a born naturist. In fact, I have been told that I was born completely naked. Really, hahaha. I therefore quickly wondered about how it comes that so many people do not want to see each other naked. Especially the genitals. It is no problem to see the rest of the naked body from each other. Funny, is'nt it? Yes, as a toddler you can often still crawl around freely in your bare buttocks. But as soon as you get bigger, you suddenly have to wear a pair of pants because they tell you that it is "weird" to walk around naked. Why actually?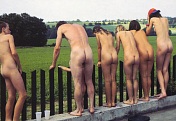 In general we all look the same. At the back there is no difference between man and woman at all. And on the front? Well, if you take a good look at it, our body is just like animals a beautiful complete whole that does not need any hiding clothes at all. In the early years of human existence, no one wore clothes because it was simply not necessary because people lived in the warm areas. Some 50,000 years ago people began move to colder parts of the world and people had to protect themselves against the cold. Back then by animal skins. By, among other things, people weren't used to see each other naked anymore everyday, so clothing was also increasingly used to hide the body. And that is unfortunately still the case today. But why? There are only 2 types of people: men and women. Of both types there are now more than 3½ billion in the world. Your genitals are certainly not unique. We are just not used to seeing it daily. There is only one part truly unique and private to your body, and that is your face.

Especially young people often have a sense of shame and do not dare to go naked amoung other people. But in the pictures below you can clearly see that if you make your truly unique personal body part, your face, unrecognizable that the rest of your body is very similar to that of the others. So it is not necessary at all to hide your body or to be ashamed of yourself.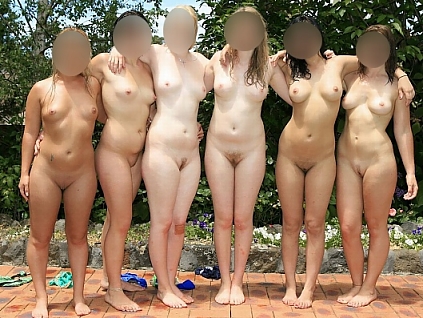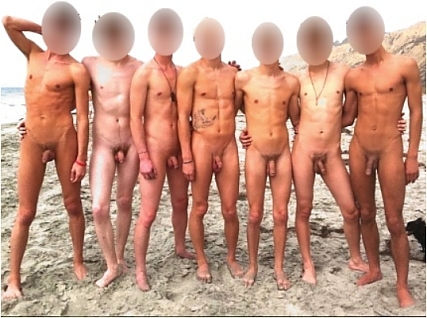 You can just literally expose yourself, as these boys and girls of the Florida Young Naturists on the left picture have also discovered. And what the young man on the right also discovered a long time ago. I know about him because I am in my younger years. My wife made this picture of me on the nudebeach of Hook of Holland.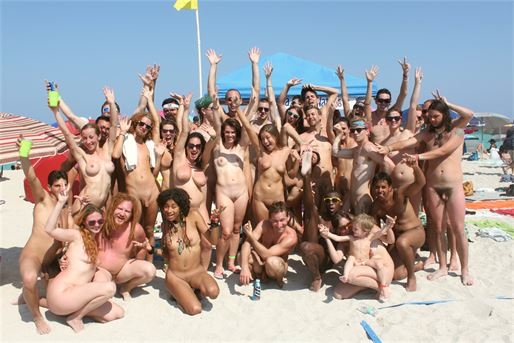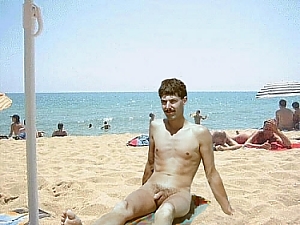 When people are naked, there are no visible professions or someones rank or social position. Naturists respect each other's body as they are. Young or old, fat or thin, with or without disabilities, every body can be seen. Your body does not have to be perfect, just look at mine, hahaha. The beauty of man is on the inside. Even a nice body will eventually get old and then a nice warm character is much more important. Nobody has to be ashamed of there body. You are as you are.

Then why do you want to be totally naked, they ask me sometimes. You can also wear a swimming trunk, because then you are already as good as naked? Understandable question, although an "old-fashioned" swimming trunks today is not enough anymore, given the knee trousers that men now have at least to have. An important reason why I feel more comfortable without clothing is my high sweat threshold. I sweat very badly and get it quickly stuffy when it gets warmer. Then the thinnest piece of textile still feels like a thick blanket. I also compare it with wearing socks. That is also a small piece of textile but you can feel the difference if you do or do not have them. Walking barefoot is also even healthier.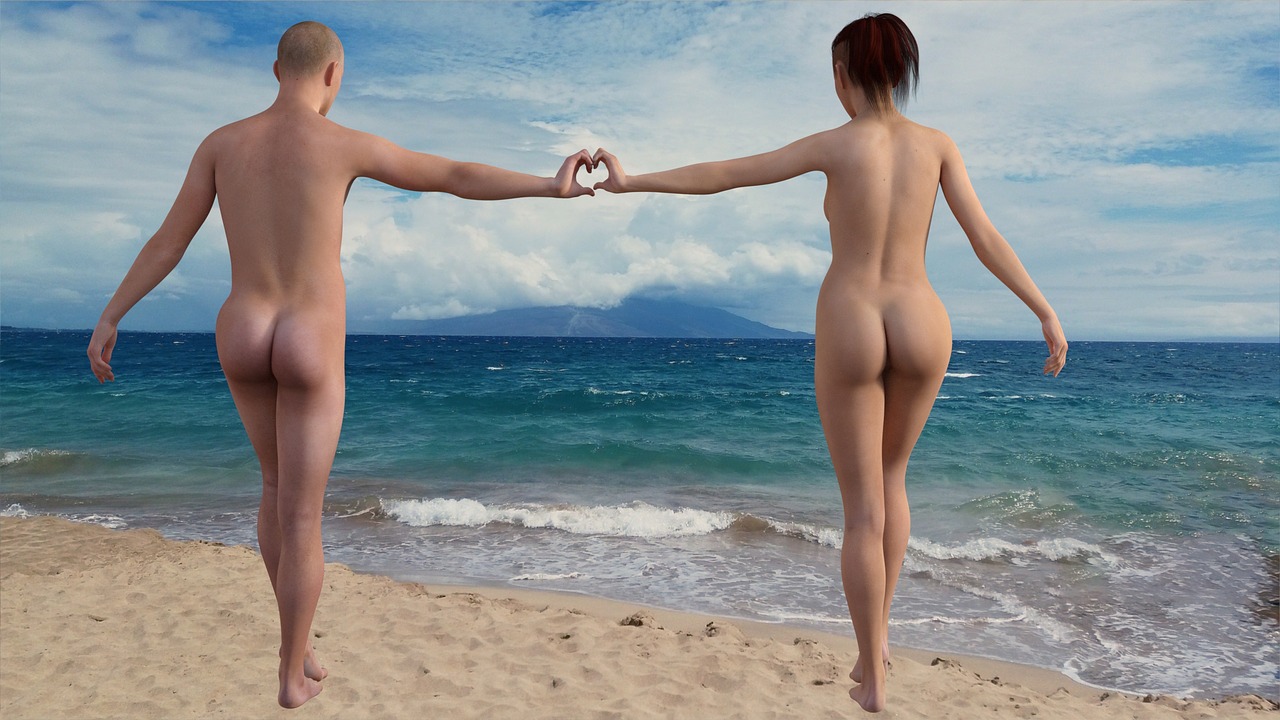 Children have by nature no problems with nudity. Logical, because everyone is born as a naturist. Culture and upbringing (religion) also determine to what extent that natural behavior is influenced, because unfortunately there are still too many adults who always associate a naked body with sex because you usually do it naked. As a result, there is still too often a false impression of being naturally naked. A naked body is not erotic at all. That is only when the "sexual button" is activated in your brain. Then even every part of a body can become erotic. For example, the mouth, which is also usually used in the love game. For example, a French kiss is a sexual act according to our law. Fortunately, no one ever made up that we should cover our mouth, hahaha. No, some women make the lips red to be "more attractive" to the men. The aforementioned "sexual button" is more sensitive to one than the other. Normally the sexual arousal comes through touches or (mental) attraction during an intimate contact with an another. But with some people the sexual arousal comes only because of the thoughts or the "accidental" seeing of naked because they rarely, if ever (be alowed to) see. Until puberty, sexuality does not yet play a role in the brain, so that children can continue to be so relaxed. They must therefore be protected very well against people with false intentions, even during sexual development during puberty.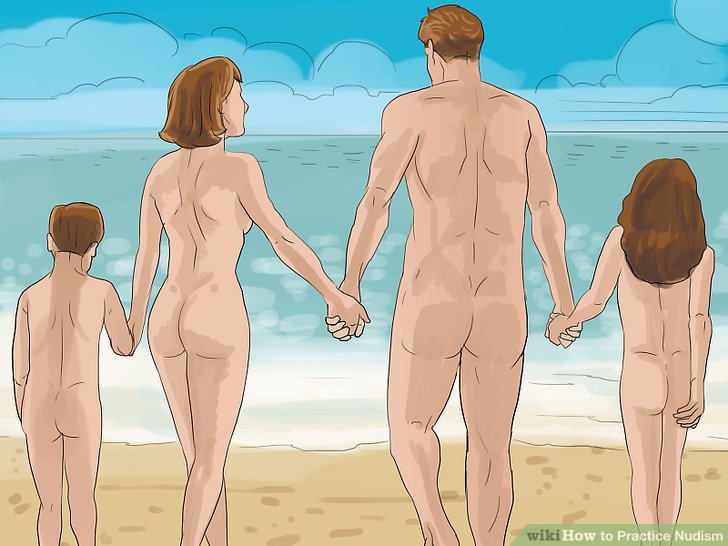 Naturism with the associated nudity therefore have absolutely nothing to do with eroticism, as a result of which there is a relaxed and paradisiacal atmosphere on a naturist terrain. And very important: When children (each other) regularly see naked, they automatically become familiar with the appearance of the opposite sex and therefore get a lot of self-confidence. They can benefit a lot from that in their later life, such as not having to suffer from unnecessary embarrassment in situations where you get out of the clothes like in the sauna, after a shower after exercise, medical examinations, and so on .....

Naked people are so ugly I hear regularly. They mean than the less slender and older people who are no longer so tight in their skin and are well represented in naturism. We are simply not used to see (older) people daily naked. However, everywhere in all media you see photos and commercials with young people who promote or show something. By only seeing "beautiful people" you get a false ideal image of how someone should look in his (almost) naked body. We are used to seeing older faces everywhere every day. Which we do not find ugly? Not counting my face hahaha.

No, our skin is the clothing that makes us beautiful by concealing the "ugliness" that is hidden under it

as the gentleman on this picture from BodyWorlds shows well.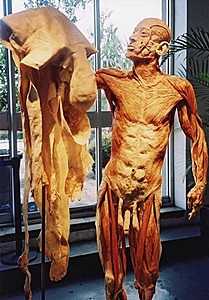 Naturism is for all people, from thick to thin and for all ages.


We have been several times to naturist campsites like Flevo-Nature, Elsendorp and Loodsmansduin on Texel in the Netherlands. We are here with our caravan on a very nice spot.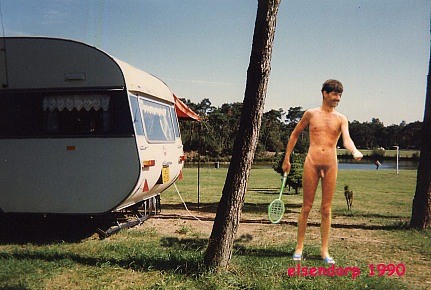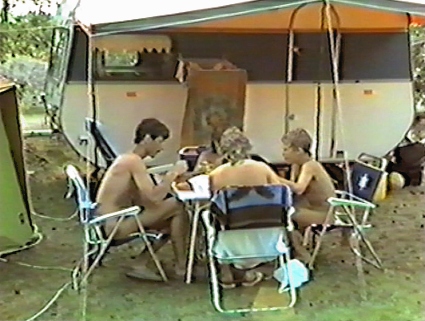 These 2 pictures were taken at Naturistpark Elsendorp in 1990. The weather was very nice so we could eat outside every day and be active in sports. Pure family naturism.

To anyone who does not yet dare to go completely naked: It is really just a matter of getting used to. Every beginning of something new is sometimes difficult. More and more people dare to take the step anyway given the increase in the number of people who go to a nudebeach and sauna. If you are between naked people, the nakedness is no longer special and you will soon appreciate the free feeling. Once you've swum naked you do not want anything else. I think swimsuits are the most senseless clothes of all time !!
You are therefore immediately freed from those annoying sticking swimsuits with grains of sand in them and from that awkward dressing behind a towel. You feel the contact with the outside air wonderfully along your entire body and you immediately become beautiful brown without white parts on your body.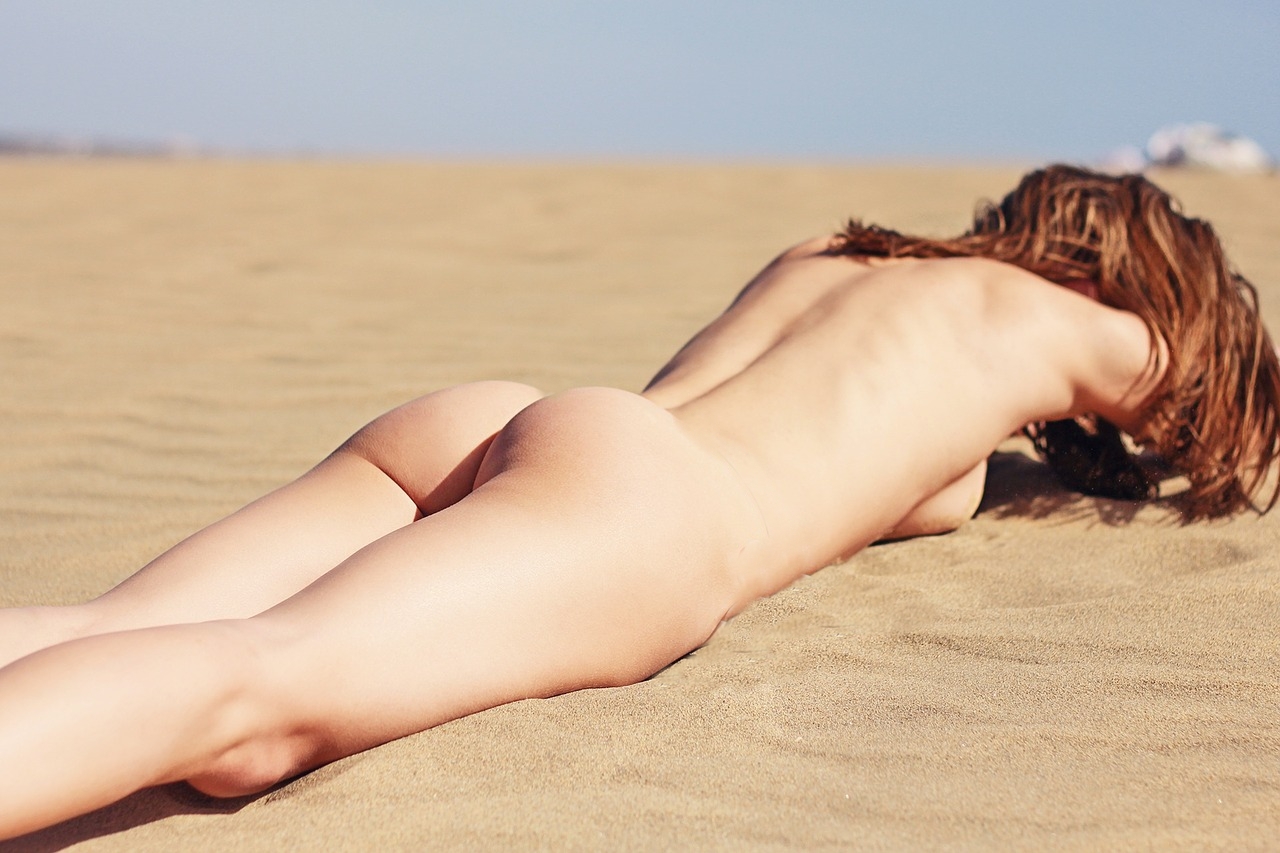 Swimwear is totally unnecessary, away with it !!!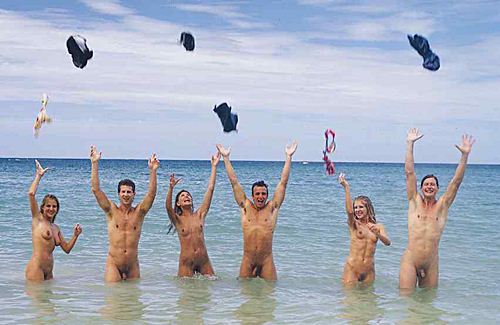 A frequently heard argument from some "opponents" is that they prefer to see another with something else, because then there is still something to guess. But what is there to guess? At best hair or no hair because everyone knows what is hidden. After all, the contours of the "content" can often be seen. Therefore, according to me, a bikini (top) gives a woman a feeling of being "dressed".

Yes, okay, if you come from another planet you really can not know what is behind that piece of textile, hahaha.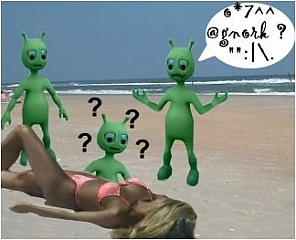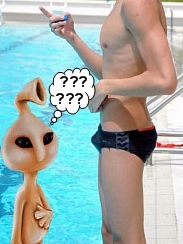 In the Netherlands it is common for men and women to sit together naked in the sauna. Dressing and undressing is done together in one dressing room. Nobody thinks that is a problem there. But why is that outside the sauna a problem? Even after exercise, showering in underwear has become "normal" because even (foreign) boys among themselves are already ashamed. While joint nude showering creates a closer bond. I think that is pitty and a bad development for learning how to deal with nakedness and self-confidence. It can all be so easy.
Maybe that will comes allright someday, because unlike the current prudity (also thanks to the camera app of the smartphone with abuse via social media) there is still a huge growth of sauna complexes.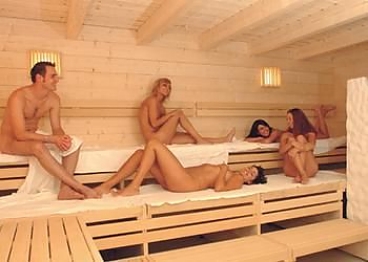 It is always nice but certainly in the winter a sauna is the ideal place to pull of your thick pack of clothes and to relax and enjoy warmth and tranquility. There was once a good deal of snow in our garden and thought of it, go crazy. Just take the clothes off and lie down in the snow. I just wanted to know how that felt. And that is quite a special experience. You feel the cold snow for a moment, but then the skin starts tingling because the body wants to warm up against the sudden cold. It did not feel cold at all anymore. Time enough for my daughter to take a picture. But after that, quickly get dressed again and snuggle by the stove and afterglow.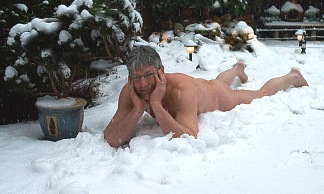 Relaxing (and sometimes work) in our own "clothing optional" backyard that offers enough of privacy. In our country it is legally permitted to stay in your garden or on your balcony if you can not be seen from the public road. This does not apply to neighbors that you can see from their bedroom window. But if you know that they do not like to see you naked, you better try to stay out of their sight.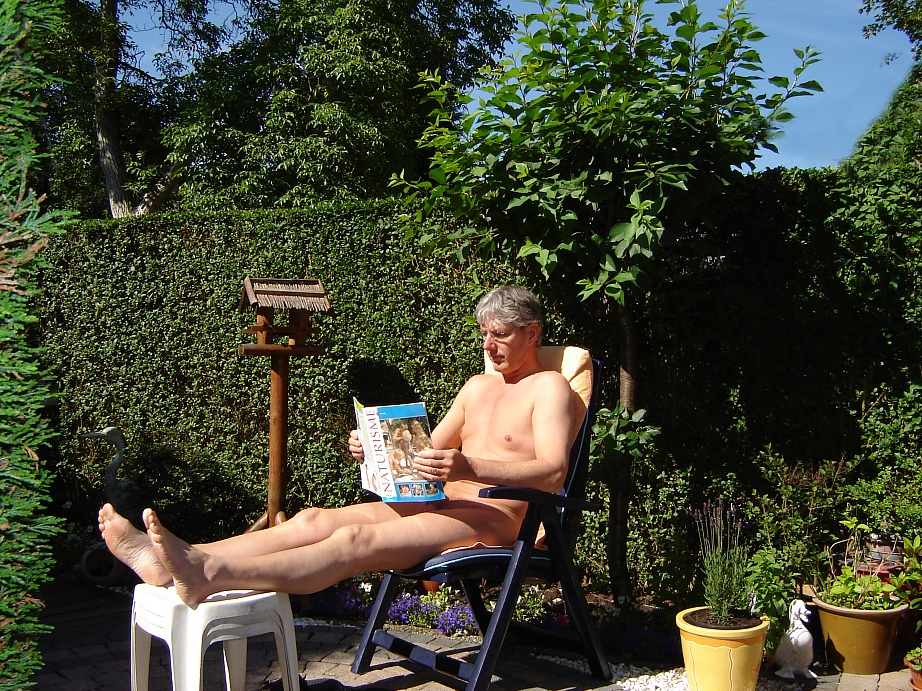 ---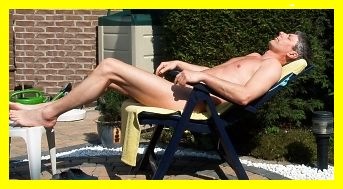 I think I was dreaming here of a peaceful, non-violent world where everyone can live the way he or she wants without it bothering or bothering others. It will stay with dreams because, unfortunately, violence can not be eliminated and no one is more stressed when seeing naked is also a utopia.
But what would it be beautiful, just like in my ideal (dream) world, if you can decide whether or not to wear clothes and just without problems and without fear of weird remark or bothered to be in your face to outside. As nature intended. These two pictures give a nice picture of what I mean.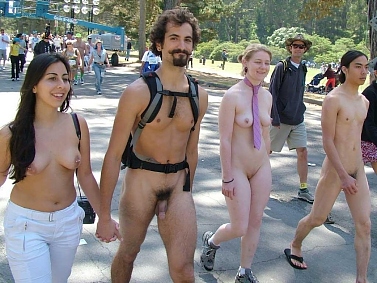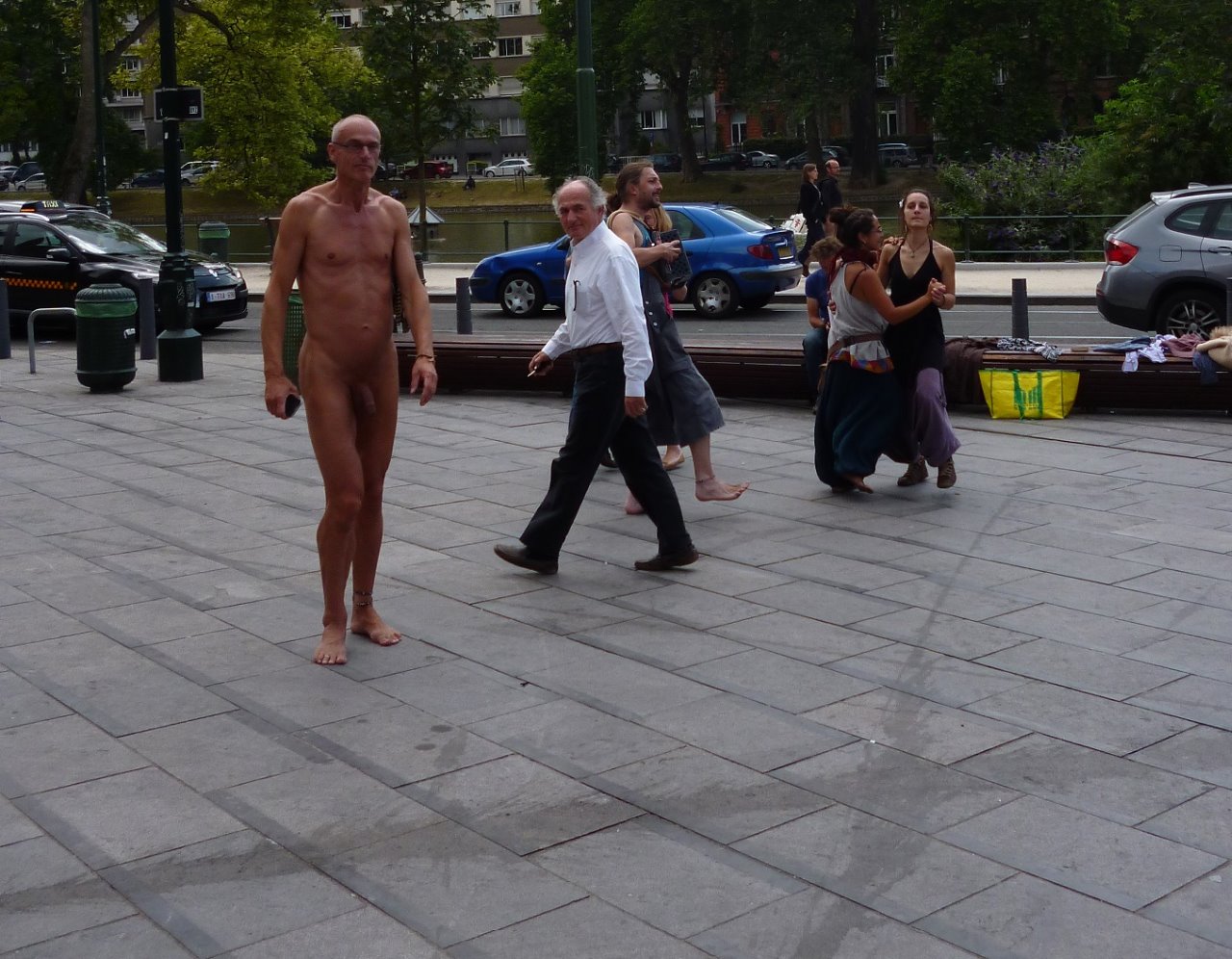 "Civilization does not ask for clothing, nakedness calls for civilization !!"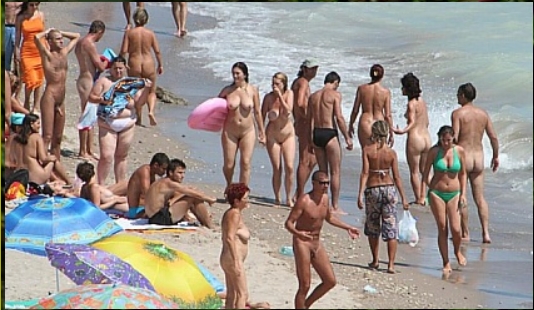 This is also exactly what I mean, dressed and undressed without any problems with each other on the beach. And so it seems that these beaches already exist somewhere.

Youth is the future, also for naturism. Of course I understand that the youth sometimes feels insecure due to the changing body and sexual development. I have also been young and honestly found myself too skinny during my puberty and other boys always "looked better". But that is part of the young age and it will go over again.

These young people of the Florida Young Naturists also show that it is fun and natural to celebrate together their bare holiday. Fortunately, there is always still youth who has little or no problems with those uncertainties about their bodies and who simply dare to show themselves.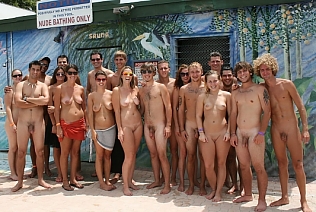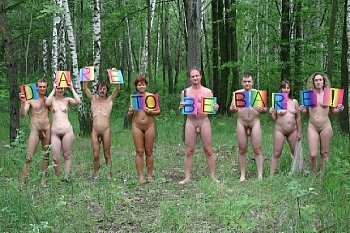 ---
I was a background actor in the Dutch movie All Stars 2: Old Stars. A part of this comedy takes place at a (fictitious) German naturist camp where a soccer game of Germany-Netherlands is played. I was one of the "supporters". It was a very nice experience even though it was only 16 degrees with a hard cold wind. Yes, you are a naturist or not, haha.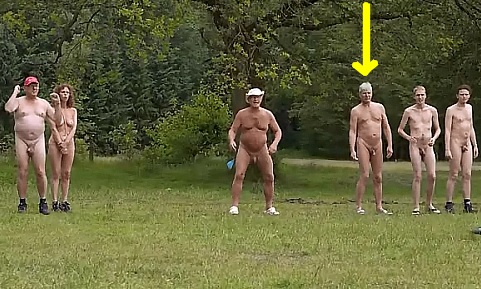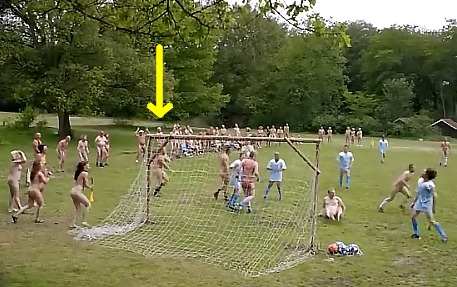 Also for the magazine "UIT" of the Dutch Naturist Federation NFN I was a figurant

(see the red arrows) for a report about a wellness center.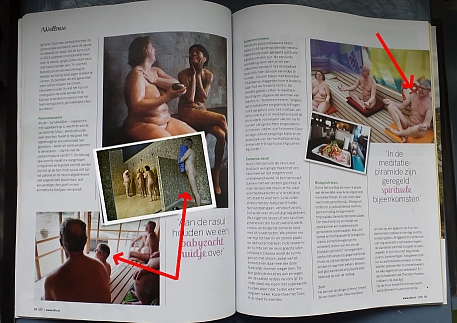 I also participated in the project "Naked Rotterdam" by photographer Leon Schröder. For a large book of 35x25x3,5 cm, 165 people were dressed and naked on the picture. People of all walks of life are literally exposed to show how normal and equal we are when we are naked. Only age and profession are mentioned in the photos. Do you see the difference between someone in social security or a director if you are dressed or naked? Or between a mail deliverer and a general practitioner? Many professions are represented.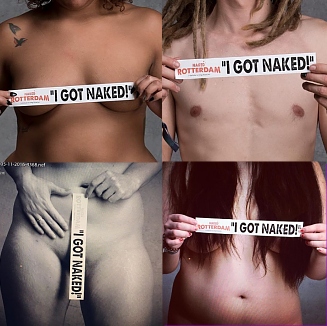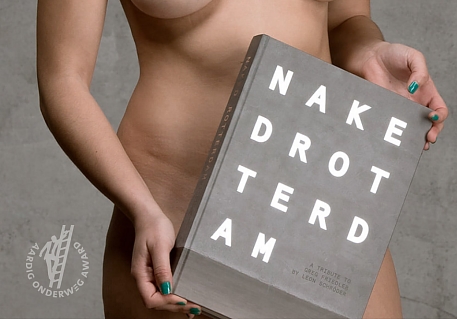 On this picture you can see how I am in the book. Click on it for more information.

---
Three passions of mine together in the picture: The naked life, my classic car and Swedish nature. Enjoying pure nature.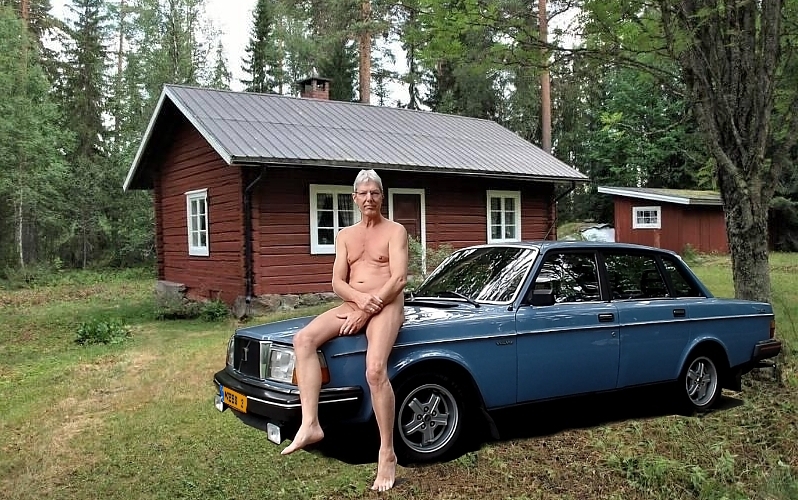 ---
For the believers among us who still doubt whether faith and nudity go together I can assure you that it allright.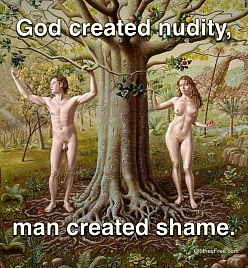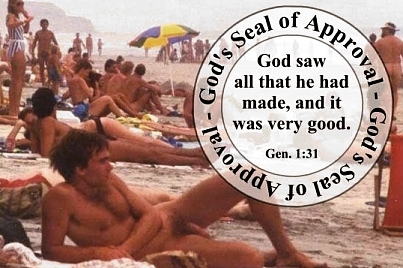 These are my naturist experiences so far. I have tried to introduce you to my vision of naturism and our naked body in a cheerful way. I hope you can appreciate it and that this page can be the last push for the doubter to really dare to throw off all the clothes. Enjoy (bare) life. Life is too short.